Roof Restoration Bulimba
Roo Roofing provides roof asbestos removal, roof repairs, roof replacements and roof restoration in Bulimba and surrounding Ipswich and Brisbane areas.
Bulimba is a suburb nestled on the southern banks of the Brisbane river, just a short city-cat ride away from the CBD. Its property offerings include classic Queenslander homes, trendy and affordable apartment living options, and million-dollar waterfront dwellings.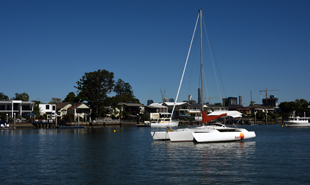 With beginnings as a farming district in the 1820s, Bulimba is now known as one of Brisbane's blue-chip suburbs, home to a cineplex and large expanse of popular dining and retail options.
Oxford St, the main road that runs through Bulimba, in particular, is known for its bustling dining and bar culture. The suburb makes the most of its sprawling river views and village-like feel once a year when it hosts the Bulimba Festival, attracting residents across Brisbane to market stalls, rides for kids, and live entertainment.
Bulimba Housing Market
Bulimba is known as one of Brisbane's most idyllic waterfront suburbs, and housing is priced to reflect this. The median price for a home in Bulimba is $1,812,500 while the median price for a unit is $752,000. House prices in Bulimba have increased by 36% in the past 12 months years while unit prices have increased by 14.4 percent in the same period.
Roof Restoration Bulimba Services
When it comes to roof restoration, Bulimba is unique.
Given the large percentage of older homes, repairs and roof restoration is in demand in the area. Most homeowners would know that your roof is the most valuable investment in your home. It's your first line of defence in protecting your house from the harsh elements South East Queensland has to offer, like our increasingly destructive storm seasons.
A quality roof will protect the property for years to come, but a damaged roof will not only put you at risk, but it will also detract from the value and appearance of the property.
We specialise in all types of roof restoration Bulimba and surrounds, including the more difficult Heritage Listed buildings, homes with extremely steep roof pitches, and homes with unusual and rare roof types.
Roof Replacement Bulimba
There are times when a restoration is not suitable for a roof, either because the damage is too extensive or the homeowner wants a complete overhaul of the roof's appearance. In these cases, a full roof replacement is needed.
At Roo Roofing, we have extensive experience with all kinds of roof replacements, from metal roof replacement, tile roof replacement, asbestos roof replacement, and decramastic roof replacement.
We also provide up to a 10 years installation warranty and provide manufacturer warranties of up to 36 years for your peace of mind with all replacement works.
Our team is highly skilled and specialised tradespeople, who have been restoring roofs in Bulimba, Brisbane and throughout South East Queensland for decades.